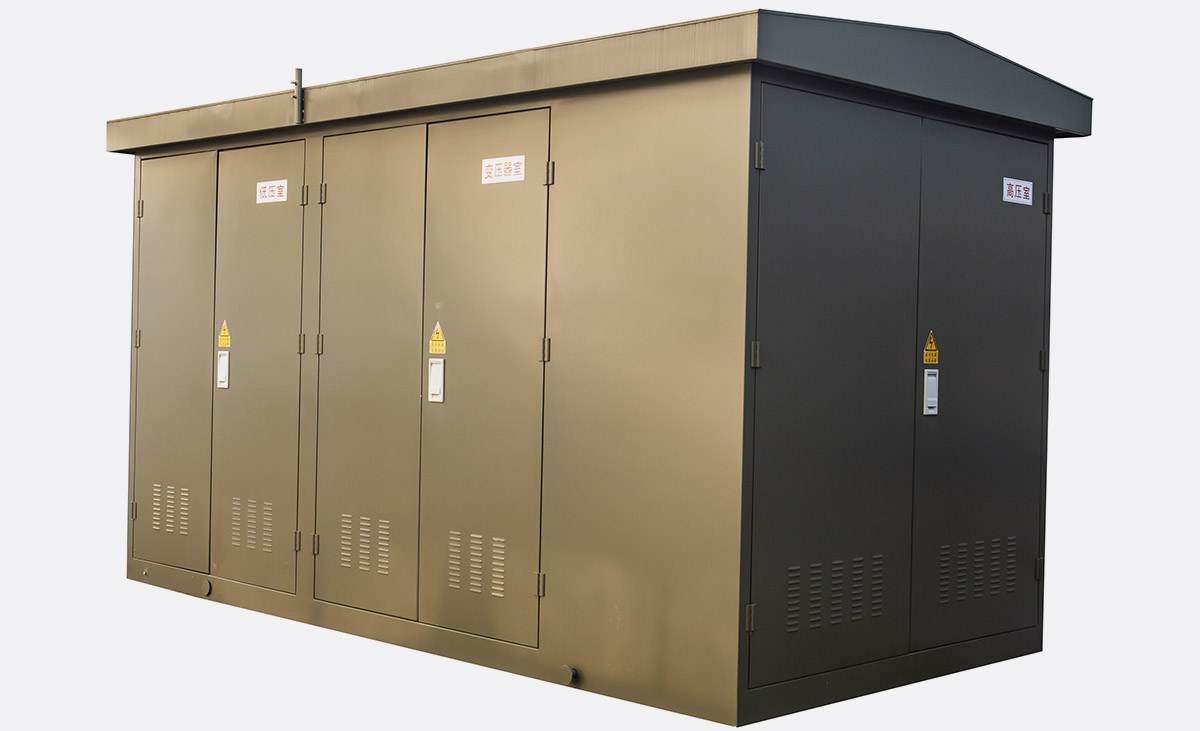 Product overview
This series of preinstalled substation is a kind of outdoor whole set equipment which is prefabricated in the factory with high-voltage switchgear, distribution transformer and low-voltage distribution equipment according to the one-circuit scheme required by users. Optional high voltage switchgear: ABB, SIEMENS, F&G SF6 ring network switchgear or ISARC and FN type pressure-operated load switchgear, can be terminal or ring network power supply unit; The transformer can be SCB13 type dry transformer or S13 oil-immersed transformer, or NX1/2 transformers above S20, the grid door of transformer room is electrically interlocked with the high voltage switchgear to ensure safety; Low-voltage power distribution device adopts imported or domestic famous low-voltage switch, circuit breaker, AC contactor, low-voltage cabinet can choose station operation or external operation. Each independent unit is equipped with perfect control, protection, live display and station lighting system. Automatic temperature and humidity control device and regulated ventilation system can be installed in the cabinet; low voltage cabinet descent manhole setting, for convenient maintenance.
Range of application
This series of preinstalled substation is suitable for ring power supply and terminal power supply system of 7.2~40.5kV, urban high-rise buildings, residential areas, industrial and mining enterprises, subways, docks, hotels, shopping malls, parks, stations, schools, hospitals, oil fields, airports, ports and power supply for temporary facilities, power grid connection for wind power generation systems, power supply for road lighting, etc.
Product features
1.Outdoor design, long service life.
2. Compact design, high practical efficiency.
3.Each compartment spacing board incoming and outgoing line sleeve prevent dust and moisture from entering each compartment.
4. The door, top cover and side plate are equipped with thermal insulating layer, with heat insulation function.
5. Assemble type structure, replacing every individual unit is very convenient.
6. It's very convenient to disassemble and install each component and part.
7. Can prevent condensation effectively.
8. The shell is made of recyclable materials and meets environmental requirements.
9. Multi-purpose design, in harmony with the environment.
Main technical parameters
Classification
Project name
Unit
Main technical parameters
High voltage unit
Rated frequency
Hz
50
Rated voltage
kV
7.2
12
40.5
Main busbar rated current
A
630、1250、1600
Rated short-time withstand current/time
kA/s
20/4、25/3、31.5/4
Rated peak withstand current
kA
50 63 80
1min Power frequency withstand voltage(to ground/ fracture)
kV
32/36
42/48
95/115
Lightning impulse withstand voltage(to ground/ fracture)
kV
60/70
75/85
185/215
Rated short-circuit breaking current
kA
20、25、31.5
Ground loop short-time withstand current/time
kA/s
20/2 、20/4
Main circuit rated short-circuit making current
kA
50、63 、80
Rated active load breaking current
A
630
Rated closed loop breaking current
A
630
Rated cable-charging breaking current
A
10
Rated cut-off no-load transformer capacity
kVA
1250
Rated transfer current
A
1700
Mechanical life
number of times
20000
20000
10000
Low voltage unit
Rated frequency
Hz
50
Rated voltage
kV
0.4/0.23
Rated insulation voltage
V
690
Main loop rated current
A
100~3200
Rated short-time withstand current
kA/s
30/1、 50/1、100/1
Rated peak withstand current
kA
63 105 176
Power frequency withstand voltage
kV
2.5
Transformer unit
Type
Oil-immersed type
Dry-type
Rated frequency
Hz
50
Rated voltage
kV
12(7.2)/0.4(0.23)
Rated capacity
kVA
30~1600
1min Power frequency withstand voltage
kV
42()
48()
Lightning impulse withstand voltage
kV
75(60)
Impedance voltage
%
4 、6
Tapping range
 
±2.5% 、±5%
Join groups
 
Yyn0 、Dyn11
Box body
High voltage and low voltage chamber protection grade
 
IP33D
Transformer chamber protection grade
 
IP23D
Sound level(oil-immersed type/ dry-type)
dB
≤50/55
Secondary circuit withstand voltage level
kV
1.5/2