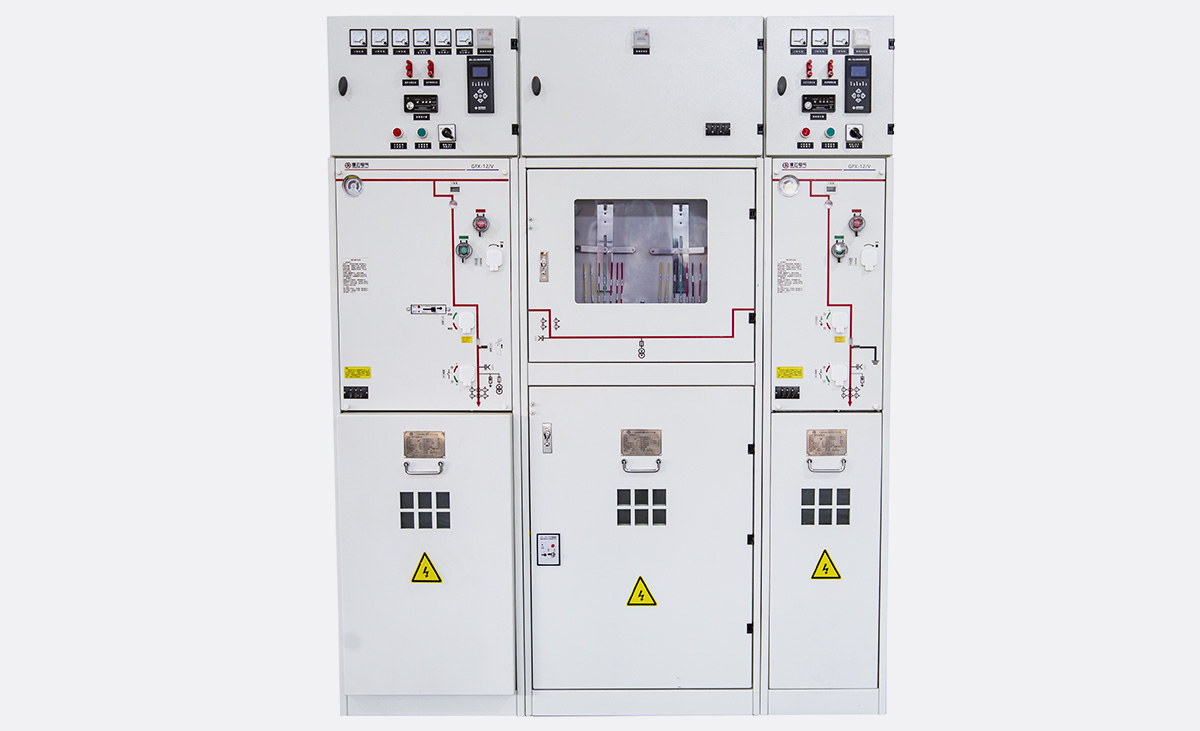 Product overview
GFX series ring main unit is a scalable SF6 gas insulated metal-enclosed switchgear, for 12 kV and 24 kV voltage level.
A high voltage all live parts are completely sealed by a gas box which welded by 3 mm thick stainless steel plate, it is small and exquisite. The whole switching device is not affected by the external environment, can ensure safe and reliable operation, and achieve maintenance-free. Through plug - in expansion busbar, it realized arbitrary combination, and achieved full modularization.
The extended busbar is completely insulated and shielded, and its dynamic and thermal stability has passed the national type test to ensure high reliability and safety. GFX series ring main unit is suitable for power system reform of city network, power transformer substation and load center power station, petrochemical industry, steel and mining, general enterprises and institutions, high-rise buildings etc.
Complies with the following standards
GB11022 IEC60694
GB/T3906 IEC62271-200
GB3804 IEC60265-1
GB1984 IEC62271-100
GB16926 IEC26271-105
GB1985 IEC62271-102
Product features
Cable(sleeve) inlet and outlet mode
L: the left cable inlet and outlet R: the right cable inlet and outlet
LR: Incoming and outgoing lines of both sides cables Blank: no incoming and outgoing lines
I: left expansion D: right expansion
ID: expansion on both sides blank: no extensible
Rated current
630 Rated current 630A
1250 Rated current 1250A
Rated voltage
12 Rated voltage 12kV
24 Rated voltage 24kV
Ark type name
K: be responsible for switchgear T: Load switch - fuse combined cabinet V: vacuum circuit breaker ark B: Busbar section cabinet C: rise ark M: measurement ark PT: PT ark P: power cupboard
(Common cabinet is composed of K and T arbitrarily, for example, KT refers to the combination of load switch unit and fuse unit.)
Main technical parameters
Project
Unit
Load switch cabinet
Fuse combination cabinet
Load switch - circuit breaker composite apparatus
Vacuum circuit breaker cabinet
Bus section cabinet
Rated voltage
kV
24
Power frequency withstand voltage(1min)
Phase to phase and phase to ground
kV
50/65
Between open contacts
kV
65/79
Lightning impulse withstand voltage
Phase to phase and phase to ground
kV
125
Between open contacts
kV
145
Rated frequency
Hz
50
Rated current
A
630
125
630
630,1250
630
Rated short-circuit breaking current
kA
20
20, 25
Rated short-time withstand current 3s
kA
20
20
20, 25
20
Rated peak withstand current
kA
50
50
50, 63
50
Rated short-circuit making current
kA
50
②
50
50, 63
50
Making current(peak value)
A
②
Rated transfer current
A
1400
Rated active load breaking current
A
630
630
Rated closed loop breaking current
A
630
630
5% Rated active load breaking current
31.5
31.5
Full cabinet weight
kg
160
180
200
200
160
Mechanical life
次
5000
5000
5000
10000
5000
Stainless steel thickness of air box
mm
3.0
SF6 rated pressure
kPa
30(under the condition of 20℃、101.3kPa)
Annual leakage rate
≤0.01%
Submerging test
24kV 24 hours (apply 30kPa pressure underwater)
Arc test
20kA 1s
Protection grade
Air box
IP 67
Fuse protector box
IP 67
Ring main unit outdoor Box
IP 44
Explanation
1.GFX-K-12/630I L K represents load switchgear, rated voltage 12kV, rated current 630A, left side expansion, left side cable inlet and outlet mode.
Ambient temperature -40 ° C to +65 ° C
Humidity Maximum relative average humidity ≤95%
Altitude above sea level ≤1000 m (over 1000 m, to be negotiated between the user and the manufacturer)
Special Conditions According to GB/T11022, for special requirements under abnormal operating conditions, the end user must negotiate with the manufacturer and meet final agreement.
If the operating environment is particularly harsh, you must consult the manufacturer and supplier. When the height of the installation site exceeds 2000 meters above sea level, it shall be specified in the order, and the manufacturer shall provide corresponding products as required.