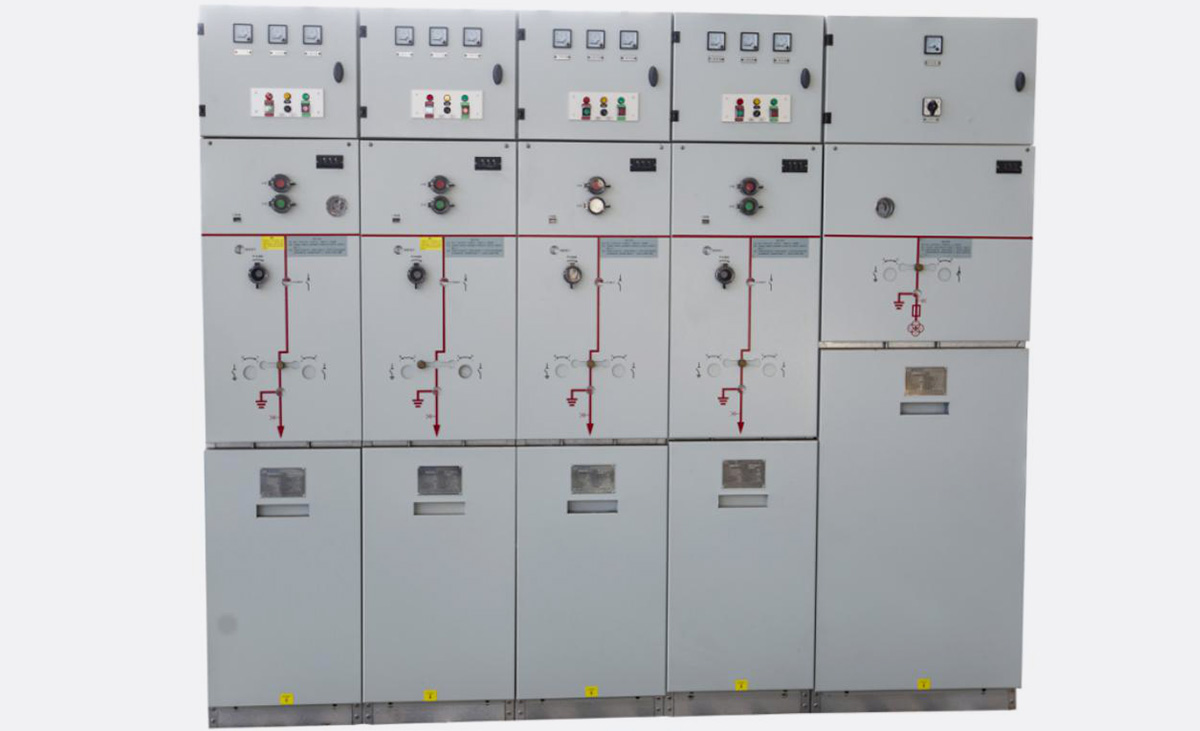 Product overview
YGFX unit type, modular sulfur hexafluoride ring main unit is a new generation, takes sulfur hexafluoride switch as the main switch, wholly adopts air insulation, suitable for distribution automation, compacted and expanded metal-enclosed switchgear, features with simple structure, flexible operation, reliable interlocking, easy installation characteristics, and we can provide a satisfying technical plan for all kinds of different applications, different users' requirements.
Sensor technology and the using of the latest protective relay, and advanced technology performance and flexible and convenient assembly scheme, can fully meet the changing demands of the market.
YGFX24 unit type sulfur hexafluoride ring main unit mainly adopts load switch and high voltage current limiting fuse combination, belongs to the expandable structure, has a complete scheme, such as incoming cubicle, transformer protection cabinet, measuring cabinet and so on.
Product Features
1.1.1 YGFX unit type modular hexafluoride ring main unit is suitable for 50 HZ AC 24 KV power system, widely used in industrial and civil cable ring network and power supply terminal project.
1.1.2 especially suitable for the following places: urban residential distribution, small secondary substation, switching station, industrial and mining enterprises, shopping malls, airports, subways, wind power, hospitals, stadiums, railways, tunnels, etc.
Regular service condition:
1.2.1 Altitude ≤1000m (Please indicate when ordering, if you have special requirements.)
1.2.2 Ambient temperature: -25℃ ~ +40℃
1.2.3 The average relative humidity does not exceed 95%, and the monthly average relative humidity does not exceed 90%
1.2.4 shock resistance: 8 degrees
1.2.5 No violent vibration and impact, fire, chemical corrosion and explosion danger places.
Main technical parameters
Serial number
Name
Unit
Parameter
1
Rated voltage
KV
24
2
Main busbar rated current
A
630
3
Rated current
A
630
4
Rated frequency
HZ
50
5
Rated short-time withstand current
KA
20
6
Rated duration of short-circuit
S
4
7
Rated peak withstand current
KA
50
8
Rated short-circuit making current
KA
50
9
Rated active load breaking current
A
630
10
Rated closed loop breaking current
A
630
11
Rated cable-charging breaking current
A
10
12
Grounding switch rated short-time withstand current
KA
20
13
Grounding switch rated short circuit duration
s
4
14
Grounding switch rated peak withstand current
KA
50
15
Rated insulation level
1min Power frequency withstand voltage (effective value)
Phase to phase and phase to ground
KV
65
Between open contacts
79
Lightning impulse withstand voltage(peak value)
Phase to phase and phase to ground
125
Between open contacts
145
16
Main circuit resistance
μΩ
≤400
17
Mechanical life (load switch)
Number of times
5000
Mechanical life (ground switch)
2000
18
Auxiliary circuit 1min Power frequency withstand voltage
KV
2
19
SF6 gas rated pressure (20 degrees gauge pressure)
MPa
0.045
20
SF6 gas annual leakage rate
≤0.5%
21
Protection grade
IP4X
Explanation
Load switch cabinet structure, basic components
3.1 YGFX-24 cabinet structure
The whole YGFX switch cabinet can be divided into two parts: up and down, the upper part of the cabinet consists of a busbar room, a load switch, an operating mechanism and a low voltage room, separated from the lower cable room. Therefore, the upper installed unit equipment can be repaired and transformed safely and conveniently, and the whole upper unit can be replaced.
Busbar chamber
Load switch
Cable chamber
Operating mechanism, interlocking mechanism and low voltage control room
Busbar chamber
The busbar chamber is placed on the upper part of the dish. In the busbar chamber, the main busbar is connected together and runs through the whole row of switch cabinets.
Load switch
Switch room is equipped with a three-position load switch, load switch housing is made of epoxy, filling sulfur hexafluoride (SF6) gas as the insulating medium, in the switch room, SF6 gas density table or gas density device with alarm contacts can be installed according to customers' requirements.
Cable chamber
Load switch cabinet has an ample cable room, mainly used for cable connection, so that single or three core cable can be connected by the simplest non-shielded cable head, while lightning arrester, current transformer, grounding switch and other components can also be installed in the ample space. According to the standard design, there is observation and safety interlocking device in the cabinet door, the cable chamber bottom plate is equipped with sealing and suitable size cable clip with support frame. Cable chamber bottom plate and the door frame can be removed to facilitate cable installation.