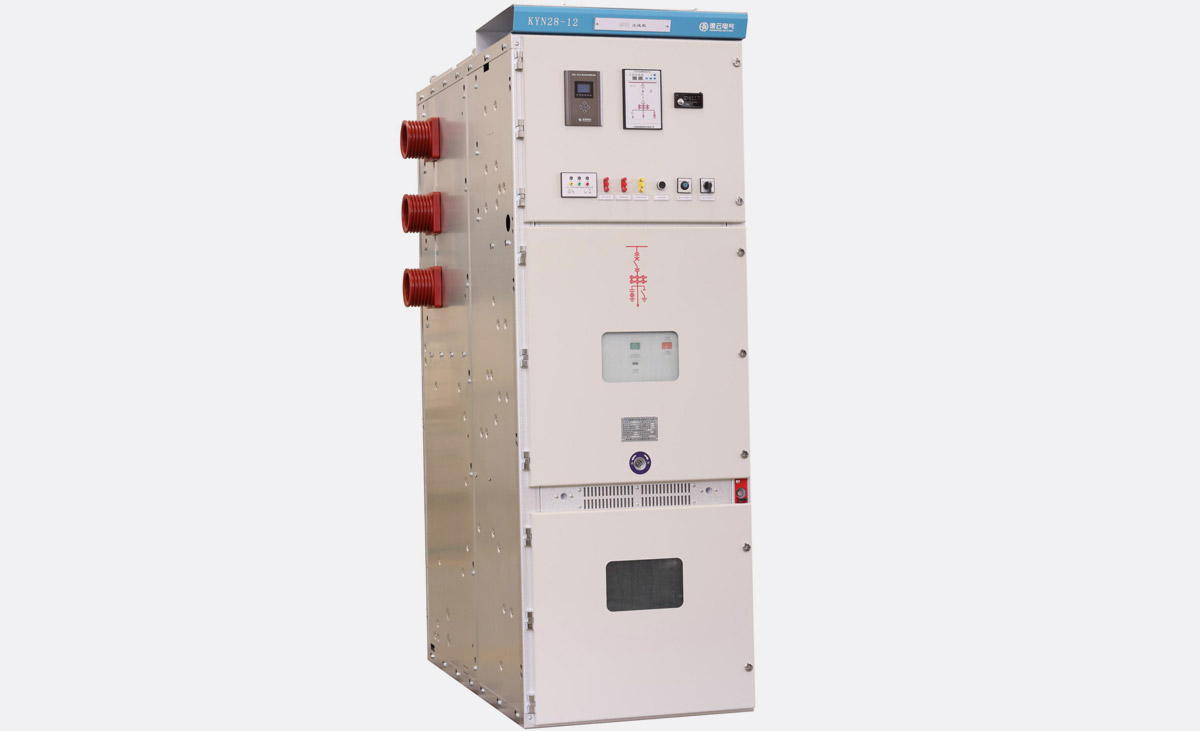 Product overview
Application range and main use
Kyn28-12 Plateau armored movable AC metal closed switch equipment (hereinafter referred to as switchgear), suitable for indoor three-phase 50Hz rated voltage 24kV and below power system at altitude of 5000M, mainly used in power plants, substations, industrial and mining enterprises and high-rise buildings, as to accept and electric power distribution and the implementation of circuit control protection and measurement functions.
KYN28-12 switch cabinet has various functions to prevent misoperation, includes the functions of preventing mobile handcart with load, closing circuit breaker with ground switch, closing ground switch with live and entering live compartment by mistake. KYN28-12 switchgear is equipped with high voltage AC vacuum circuit breakers such as VS1 or VD4 with excellent performance. The secondary circuit of switch cabinet is equipped with advanced and reliable control and protection elements; the busbar is insulated by heat-shrinkable bushing, optimized electrode shape and compact cabinet structure. KYN28-12/24 switchgear is a power distribution equipment with advanced technology, stable performance, reasonable structure, convenient operation, safety and reliability.
Product reference standards and specifications
GB1984 AC high voltage circuit breaker
GB3906 3~35kV AC metal closed switch equipment
Common technical requirements of GB/T11022 standard for high voltage switchgear and control equipment
Technical conditions for ordering DL/T404 indoor AC high voltage switchgear
Special service conditions
When it is used beyond the normal environmental conditions specified in GB/T11022, our company and the user may negotiate special operating conditions that exceed normal operating conditions, and achieve agreement.
To prevent condensation, the switch cabinet is equipped with a heater, when the switch cabinet is in standby state, it should be on, the heater should also be paid attention to when the switch cabinet is in normal operation.
Product features
Safe and reliable
Metal armored and fully enclosed structure
Take the measures of balancing the electric field, prime conductor's material is insulating heat shrinkable material with high insulation performance.
The low voltage chamber and each high voltage compartment are independently separated.
Quick opening and closing earth switch is used for grounding and has the ability to open or close short circuit current.
The operation of all equipment, including the opening and closing of circuit breakers, circuit breaker handcart push in or move out and the operation of opening and closing of the grounding switch, can be carried out on the condition of the door panel closed With a reliable locking device, can effectively prevent the misoperation.
Looking through the front and rear observation windows of the door panel, it is convenient to check the opening and closing state of the circuit breaker and the position of the handcart, mechanism energy storage state, the opening and closing position of the grounding switch and the connection of the cable head.
The products meet IEC62271\GB/T3906 standards and China's electric power industry standard.
Strong practicality
Enclosure protection classification IP4X, to prevent dirt and small animals entering.
The vacuum circuit breaker is maintenance-free type, a little maintain is needed for its matched operating mechanism.
The interchangeability of handcart is good; it is very convenient to replace circuit breaker. The secondary wire is laid in a generous groove, which is beautiful and easy to check.
Wide adaptability
Suitable for cable and busbar in and out or cable and busbar mixed in and out.
Suitable for all kinds of conventional cable head.
Can be connected by multiple cables
Main technical parameters
Serial number
Project
Unit
Parameters
1
Rated voltage
kV
12
24
2
Rated frequency
Hz
50
50
3
Rated insulation level
1min working tolerance voltage (effective value)
kV
Phase to phase
42
Phase to phase
65
Between open contacts
48
Between open contacts
79
Lightning shock resistance voltage (peak)
kV
Phase to phase
75
Phase to phase
125
Between open contacts
85
Between open contacts
145
4
Rated current
A
630~2000
2500~4000
630~3150
5
Rated short circuit breaking current
kA
25、31.5、5、40
31.5、40、50
25、31.5
6
Rated short circuit close current (peak value)
kA
63、80、100
80、100、125
63、80
7
Rated short-time withstand current (heat stable current 4S)
kA
25、31.5、40
31.5、40、50
25、31.5
8
Rated peak withstand tolerance current (dynamic stability current)
kA
63、80、100
800、100、125
63、80
9
Auxiliary control loop rated voltage
V
DC or AC:110/220
10
Protection grade
IP4X(Open the door between compartments is IP2X)
11
Dimensions (width X depth X height)
mm
800×1500×2300
1000×1860×2380
12
Weight
Kg
700~900
800~1500
Explanation
KYN28-12/24 switch cabinet consists of two parts: cabinet body and removable parts (commonly known as handcart).
Cabinet and the metal partition are divided into several functional compartments, such as busbar room, cable room and low voltage room.
The removable parts of switch cabinet can be equipped with vacuum circuit breaker handcart, voltage mutual inductance handcart, arrester handcart, isolation handcart and fuse handcart, etc.